Social Program
Conference Dinner
Date: Thursday June 28, 2018
Location: Winkel van Sinkel, Oudegracht 158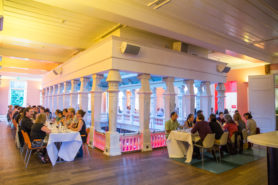 The Winkel van Sinkel was the first department store opened in the Netherlands. It is located along the Oudegracht canal and near the city hall of Utrecht. Winkel van Sinkel opened in 1839 and you could buy almost anything you wanted. The store was famous throughout the Netherlands and lasted more than fifty years. In 1898 a bank took up residence for over a century. Nowadays Winkel van Sinkel is a grand café and restaurant during the day and transforms into a club at night.
We hope all attendees will join the conference dinner at Winkel van Sinkel! Please buy a ticket during online registration.
Hospitality suite
More information will be available soon.